About Tucker Riggleman & The Cheap Dates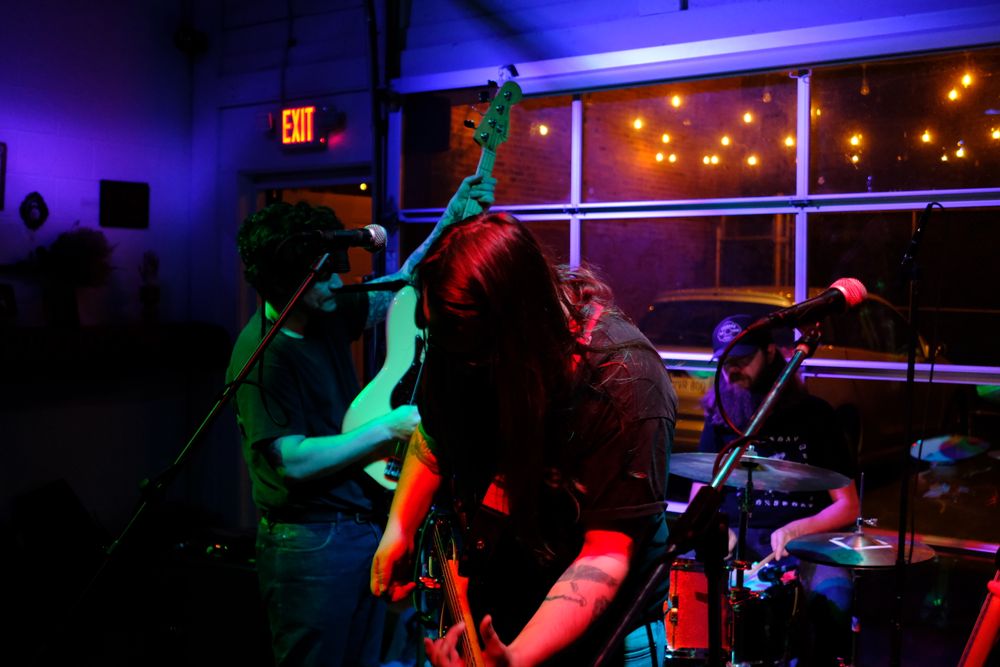 West Virginia songwriter Tucker Riggleman was already living in isolation when the pandemic hit in 2020. Having moved back to the Mountain State seeking a fresh start, Riggleman was off the grid in the Monongahela National Forest, ready to embrace some tough inner-work. His band released their debut full-length Alive and Dying Fast in a world with no shows. For a time, it seemed like The Cheap Dates might never play live again. Once things slowly began to open up, they were floored by the response to the album – the initial vinyl pressing sold out after only a handful of live performances. 
By the time the debut LP was released, Riggleman had almost finished writing the follow-up record. This was the first batch of songs he had written completely sober. The result finds him channeling his surroundings, influences and frustrations into the most cohesive album of his career. Equal parts the band's signature goth-tinged twang rock and the summoning of Jason Molina's ghost, Restless Spirit is a love letter to the healing woods and water of West Virginia. It is proof that we can change ourselves, despite the odds. It is a warning sign and a road map for stepping fully into the darkness to find the light. Above all else, it is a testament to hope. Hope that if we let go and break our self-destructive cycles, no matter what they might be, we can all get to a better place. 
With decades of tread on the collective tires, The Cheap Dates have rightfully earned their reputation as a captivating, high-energy live act. Hoping to capture some of that magic, they once again turned to Grammy-nominated producer Duane Lundy to steer the ship. The results build on their debut in every way, with drums, bass and rhythm guitars all tracked live with minimal overdubbing. Tastefully restrained at times and dutifully unhinged at others, Riggleman's voice is front and center as he recites lyrics that expose his roots as an accomplished poet. The percussive work of M Tivis Clark is nuanced and hypnotic, and proves why his drumming talents are sought after in the region. Bassist Mason Fanning plays more instruments on the record than anyone, lending his melodic skills to bass, rhodes, baritone guitar, and vocal harmonies. Riggleman's signature guitar sound is present as ever, but he was not afraid to experiment with broader tones this time around. Lee Carroll, former bandleader for country legends The Judds, lent his talents on organ, with Lundy himself once again earning his performer credit with tasteful synth work that evokes Seventeen Seconds-era The Cure. Sugarbelli frontman Jason Brown also returns to offer his Kentucky yelp to several tracks. Justin Perkins, known for his excellent mastering work on The Replacements re-issue catalog, once again added the finishing touches. To round out the returning cast of talented collaborators, Jordan Hudkins of famed party-rockers Rozwell Kid handled artwork, this time conjuring a striking cardinal, the state bird of West Virginia, complete with a "broken horn" and "stars in its eyes", both lyrical nods to the record.
Tucker Riggleman is a founding member of country-rock outfit Prison Book Club (featuring John R. Miller, Adam Meisterhans and William Matheny), garage rockers The Demon Beat, indie group Bishops, and heavy punk thrashers RHIN. 
Tucker has shared the stage with Tommy Stinson (The Replacements), Mike Watt (Minutemen), Ty Segall, Tyler Childers, Sarah Shook, Lost Dog Street Band, Kristin Hersh (Throwing Muses), and many other notable acts over the years.
Live band members:
Tucker Riggleman - guitar, vocals
M Tivis Clark - drums
Mason Fanning - bass, vocals
Paul Young - guitar, vocals
Discography:
Restless Spirit (WarHen Records) - 2024
Alive and Dying Fast (WarHen Records) - 2021
Silver Queen EP - 2020
Heaven EP - 2019
Time Machine EP - 2019

All songs copyright Tucker Riggleman (BMI) and published by Songtrust.